Interviews

Marilena Werth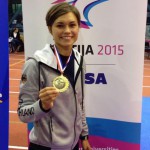 Category: Female -62kg
University: German Sport University Cologne, Germany
Result: First place on 4th European Universities Taekwondo Championship
Taekwondo Profile: http://www.taekwondodata.com/marilena-werth.agnj.html
Marilena Werth is a 23 year old young energetic competitor of the championship. She brought her smile and happiness to our event. In a short interview we talked with her about the competition and her background in Taekwondo.
 Q: Please give us a short introduction about you and your Taekwondo carrier
A: I have been into taekwondo for 16 years now. The last years were quite successful for me. I won two bronze medals at the Belgian and Greece open and a silver in Moldova Open. This year I got the chance to take part in the Universiade in Gwangju and I won a silver medal at our National Championship in Germany. But my biggest success so far is the gold medal that I won here in Opatija.
Q: Where have you heard about the 4th European Universities Taekwondo Championship?
A: I received an official invitation after the German National Universities Taekwondo Championship. It said that I got myself qualified to the European Universities Taekwondo Championship. I have never been to this competition series before but my coach and a friend of mine participated previously and told me about the kind atmosphere.
Q: What do you think about the event, how did you like it?
A: To be honest, I was pretty sceptical with the new rules, that everyone had to fight with everyone, but it ended up quite well. I think it is a very fair system that gives everyone the chance to get into the court more times. Sometimes the draw can be really unlucky in the other fighting system. I especially liked Opatija and the sightseeing program. We could get to know each other better and the city was just wonderful. The only suggestion that I would make for future is to have more opportunities to get to the venue from the Hotel.
Category: Male -58kg
University: University of Reykjavik, Iceland
Result: First place on 4th European Universities Taekwondo Championship
Taekwondo Profile: http://www.taekwondodata.com/meisam-rafiei.a8k2.html
Website:  http://meisamrafiei.com/keppandicompetitor/
Meisam Rafiei father of a 2, 5 year old child represented Iceland this weekend. He was willing to discuss with us his previous background in Taekwondo and his opinion about the event.
 Q: Please give us a short introduction about you and your Taekwondo carrier.
A: I'm 29 year years old, father, studying Sports Sciences in the 2nd year at University of Reykjavik. I started to train taekwondo at the age of 3 competing since I'm 7 years old. Originally I'm from Iran but now I am representing the National Team of Iceland. My results from last year are bronze medal at Trelleborg Open in Sweden, gold medal at Nordic Championship in Iceland and I could also compete in European Championship in Baku. When I was young I was World Junior Champion in 2002, and World Military Champion in 2006 and 2008. Right now I'm preparing for Rio. Apart from being an athlete I also work as a head coach in FRAM and I'm helping to coach KR and Armann. From 2011-2014 I could be the head coach of Iceland's National Team.
Q: Where have you heard about the 4th European Universities Taekwondo Championship?
A: Well my University did not know about the competition, neither promote it, but I saw online at my friends' pages that they will participate in the event. So I was thinking of why not to come. I have never been to these competition series before and as I'm 29, I would not have that many possibility to take part in, because of the age limit.
Q: What do you think about the event, we've heard that you arrived without a coach, how was it?
A: Yes you are right, my coach left after the Croatian Open. Now they were texting me from Paris Open to come, but as I was in the semi-finals and finals I would not be able to arrive there in time. It was a little bit hard because I only knew a few people here, but now I have a lot of friends. I would like to especially say thank to the kindness of Gerhard Huber the coach of the Austrian team who helped me during the fights. About the event, to be honest I thought I will be much easier, but indeed it was surprisingly hard at the end. I would also like to say thanks for the organizing committee and volunteers to the cheerful attitude and kindness. I had been to several competitions before, but here there was always a smile and a friendly environment which made me feel warm. In general I liked the system and Adidas KP&P as sponsor all in all I have positive experience with the competition.
 Thank you for participating in our event and to let us have this short interview. We wish you a good luck for the following years!
Opening ceremony
The Opening Ceremony of the 4th European Universities Taekwondo Championship took place on 11th of November in Opatija at Hotel Ambasador. Rijeka and Opatija will host 150 participants from as many as 48 Universities from 16 countries.
The representatives:
Mr Pero Lučin – rector of University of Rijeka
Mr Fernando Kirigin – deputy mayor of city of Opatija
Mr Igor Načinović – head of City Department of Sports and Technical Culture of Rijeka
Mr Zrinko Čustonja – president of European Universities Games Zagreb – Rijeka 2016,
Ms. Aleksandar Šušnjar – president of the Student's council in Rijeka
Mr Marko Žunić – NUSA representative.
Mr Haris Pavletić – president of the Organizing Committee of Taekwondo
Mr Česlovas Garbaliauskas – EUSA Executive Committee
EUSA is represented by Mr Patrik Peroša and Mr Česlovas Garbaliauskas and the Technical Delegate is Mr. Fatih Catikkas.
The participants were welcomed and wished to have a great competition where they can test their skills and abilities. The Organizing Committee will make sure that the event will run smoothly without any problems.